For decoding information that I recieve I am using the following equipment
Signalink USB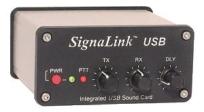 The SignaLink USB brings the A/D, D/A converters and op amp closer to the transceiver interface, which reduces overall noise in the system. Better yet, instead of manipulating the sound levels by using a computer mouse or track ball, traditional pots and knobs have been installed on the front of the unit. This makes it much easier to adjust the receive and transmit levels for the various digital modes. The SignaLink USB transmit/receive switching time can be controlled by an external time delay pot. The SignaLink even obtains its 5 V dc power from the USB connector, so that's another issue solved. If you have several transceivers you could use a number of these units, each connected to its own USB port.
SYMEK TNC3s

The TNC3S is the top Packet Radio-Controller for Amateur-Radio. Two modems may be run simultaneously. The Modems are plugged-in and can be combined with the base model as desired. In the TNC3, there is space for two Modems, e.g. a 1200 Baud AFSK modem and a 9600 Baud FSK modem. Both modems are acessed simultaneously by the TNC3-Controller. For
TNC3, there are two modems available:
AFSK1200 for 1200 Baud AFSK (Bell 202)
FSK9601 (G3RUH-compatible modem) for 9600 Baud FSK. This modem can be easyly modified for other baudrates from 4800 up to 614k Baud.
Yam Modem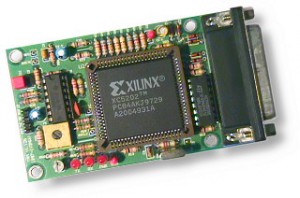 Born in the Summer 1997 as a 9600 bps G3RUH compatible modem, the YAM s a multi-standard modem capable of AFSK 1200 bps and Manchester-FSK 2400 bps operations. The YAM modem integrates all the functions of a packet radio modem and parts of those of implemented in a TNC using only three integrated circuits and interfaces directly to a PC serial port from which it is also powered.
The YAM introduces a substantial new in the arena of packet radio modems and is based on a FPGA (Xilinx's Xc5202) which includes a large amount of logice resources allowing a reduced components count and a more compact form factor.
The programming of a FPGA, often called "FPGA configuration", is not a permanent operation, like in a PROM memory, but temporary like in a RAM memory. This feature is used to reconfigure the YAM modem and to fastly toggle its operating mode among FSK, FSK/Manchester e AFSK accordingly to the user needs. The YAM gate array is programmed via the serial port which connects the modem to the PC by means of a software utility which, in few seconds, programs the modem and uploads the required configuration data.