Afedri version 3.0 HF SDR receiver with the following specifications and features.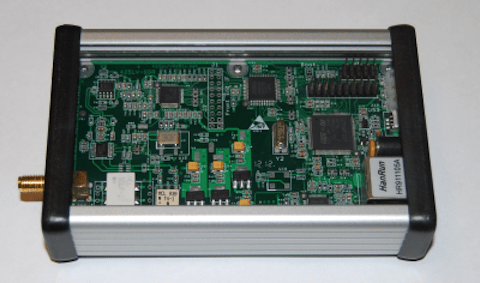 Features:
100 kHz to 30.00MHz continuous frequency range
Direct sampling
Digital down-conversion
12- bit 80 MSPS A/D conversion
Up to 2 MHz recording and processing bandwidth
Waterfall display functions, when used with appropriate software
Recording and playback, when used with appropriate software
Sensitivity –  MDS -133 dBm at 500Hz bandwidth
USB 2.0 interface
LAN interface for remote access
Compatible with: Linrad, Winrad, HDSDR, Studio1, SDR#, SDR Console SDR-radio, CuteSDR, SpectraVue 3.23.
Powered from USB or 7.5v to 14 volt external source (for SDR rev. <= 2.1) or 7-10V for SDR's revisions beginning rev. 2.2
Dimensions 120mm deep x 78mm wide x 27mm high
Low cost – revision 2.3 $249, and revision 3.0 $259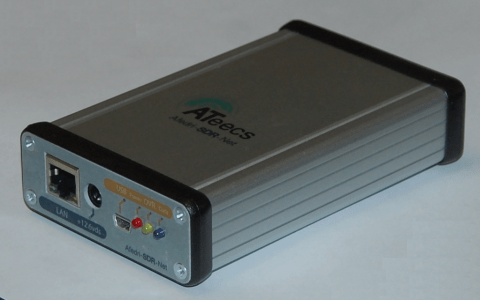 Frequency Coverage:
0.1MHz-30MHz: 30MHz Low Pass Filter (LPF) assembled  – standard  configuration
Noise Figure:
 ~14dB (for 1MHz-30Mhz range and maximum gain 35dB) input VGA (Variable Gain Amplifier) has variable Gain from -10dB up to +35dB
Output data format:
two 16-bit I/Q channels (audio stereo stream emulation)
RF ADC sampling rate:
Hamradio Science overview of the inexpensive Afedri SDR-Net HF direct sampling SDR receiver.
---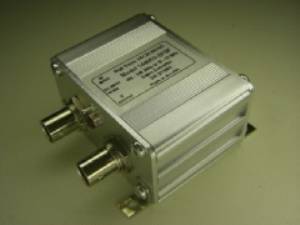 UHF to HF down converter
The idea was, to use the bandwidth of the AFEDRI SDR in combination with a 70cm down converter. After searching the Internet I found the website from High Sierra Microwave and ordered the 432M7 SDR friendly down converters.
Specifications:
The Model 432M7 is designed using a two stage pHEMT MMIC LNA, each stage followed by a SAW filter, which provides over 75 dB of image rejection. It has a crystal controlled PLL local oscillator at 425 MHz, a double balanced mixer and IF filter. The low frequency IF of 7 to 13 MHz is a great fit for the many HF SDR receivers, such as the Softrock and SDR-IQ series, available in the market
Lets see how this down converter will perform in comparison to the FUNcube Dongle Pro+. As you may already now, I use SpectraVue together with my AFEDRI SDR and when one connects a down converter you can use the External Radio Setup. For this combination I use the following settings.
Custom Inverted IF = no
Custom Ext Center Freq = 435000000 Hz
Custom IF Center Freq = 10000000 Hz
Ext IF BW = 10000000 Hz
Lets see what this combination brings in the next couple of weeks.
---
Homepage and other references: