VO-52 (Hamsat)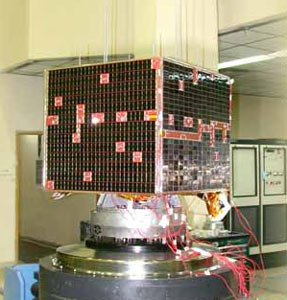 HAMSAT is ISRO's first theme based Micro-satellite meant for providing Satellite based Amateur Radio Services to the National as well as International Community of Amateur Radio Operators (HAMs). Launched in May 2005 on-board the PSLV-C6 Mission as an Auxiliary Satellite, it will meet the long felt need for the Amateur Radio Operators of South Asian region who possess the required paraphernalia and operate in the UHF/VHF band based Satellite Radio Communication Channel.
Communication for the satellite is on VHF (137MHz for TM and 149MHz for TC). There are two payload transponders – Indian and Dutch. Dutch transponder was delivered by William Leijenaar, PE1RAH. Both these operate in Mode-B with 435.25MHz uplink and 145.90MHz downlink. Indian transponder is identified by an un-modulated carrier on 145.936MHz and Dutch transponder has a CW signal on 145.860MHz. The output power is about 30dBm. Bandwidth is 60KHz for the Indian transponder and 50KHz for the Dutch transponder. Only one transponder is `on' at a time. Antennae are turnstile are common for TM/TC and payload transponders.
One Transponder developed indigenously involving Indian Amateurs, with the expertise of ISAC and the experience of AMSAT-INDIA
A Second Transponder developed by Mr. William Gerard Leijenaar, Dutch Amateur Radio Operator and a Graduate Engineering student at Higher Technical Institute, Venlo, Netherlands.
UHF Uplink, VHF Downlink
Transmitter Output Power of 1 watt
Transponder Bandwidth of 60 khz
CW, SSB, FM Modes of Communciation.
Programmed tracking of Hamsat is being carried out by ISRO's two stations at Bangalore and Lucknow.
Orbital parameters
Name                 VO-52
NORAD                28650
COSPAR designation   2005-017-B
Inclination (degree) 97.910
RAAN                 263.203
Eccentricity         0.0028440
ARGP                 39.822
Orbit per day        14.80873952
Period               1h 37m 14s (97.23 Min)
Semi-major axis      7005 km
Perigee x apogee     607 x 646 km
Drag factor          0.000077183 1/ER
Mean Anomaly         320.507
Downlink
145.875 MHz – 145.925 MHz USB/CW (Dutch PE1RAH Transponder)
145.870 MHz – 145.930 MHz USB/CW (Indian Transponder)
Beacon Indian transponder : 145.940 MHz continue carier signal (Indian Transponder)
Beacon Dutch transponder : 145.860 MHz 12WPM CW message (Dutch Transponder)
Uplink
435.225 MHz to 435.275 MHz LSB/CW (Dutch Transponder)
435.220 MHz to 435.280 MHz LSB/CW (Indian Transponder)
Mode and Antenna Polarization:
V: LHCP
U: RHCP
Call
HAMSAT
Status
not active
---
Homepage and other references: