CAS-1 XW-1 or HO-68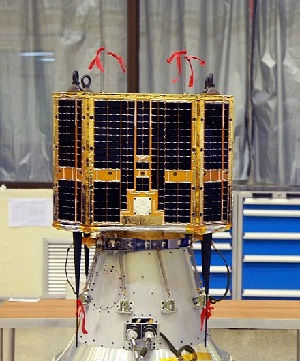 (Xi Wang-1 means Hope)
On 15 Dec 2009, AMSAT China launched a new amateur radio satellite, now designated as Hope Oscar (HO) 68. This satellite not only has a V/U FM repeater but also a V/U linear transponder for SSB and CW as well as a packet BBS system. This one should be great fun to work.
Mission
A physical experiment is based on an idea of school children and is concerned with the movement of particles in the space under nearly weightless conditions. For this we observe the behavior of a, consisting of 5 different colors of granules in orbit. To take panoramic pictures of the Earth is another mission objective. This CMOS uses a wide angle color camera with a resolution of 1.4km/pixel. The Amateur Radio payload of XW-1 consists of a CW telemetry beacon, a linear transponder, an FM transponder and a store and forward packet radio mailbox.
Orbital parameters
Name                 HOPE-1 (HO-68)
NORAD                36122
COSPAR designation   2009-072-B
Inclination (degree) 100.397
RAAN                 11.608
Eccentricity         0.007174
ARGP                 254.967
Orbit per day        13.16289915
Period               1h 49m 23s (109.38 Min)
Semi-major axis      7577 km
Perigee x apogee     1193 x 1204 km
Drag factor          0.000000000 1/ER
Mean Anomaly         105.064
Downlink
435.7900 MHz CW Beacon
435.6750 MHz FM Voice repeater
435.7650 – 435.7150 MHz SSB/CW Linear transponder (inverted)
435.6750 MHz 1k2 AFSK FM
Uplink
145.8250 MHz FM, PL 67.0 Hz Voice repeater
145.9250 – 145.9750 MHz SSB/CW Linear transponder (inverted)
145.8250 MHz 1k2 AFSK FM PacSAT BBS
Mode and Antenna Polarization:
V: LHCP 2.0dBi, 135° max
U: RHCP 3.0dBi, 135° max
Call
BJ1SA
Status
The current situation is that the transponders will be difficult to switch the RF PA from beacon mode to transponder mode. The RF relay or its drive circuit is failing, it is a stick relay. Probability of success of switch is probably a few tenth. On the other hand, up to now the both solar and lithium-ion batteries are in very nice condition. The exhibitions of the thermal-control, onboard flight computer and TT&C are also excellent.
CW Telemetry

The beacon is always on and transmitting at a power of about 200mW. In 40 seconds, a complete set of telemetry data at about 15 wpm is sent, followed by 10 seconds rest.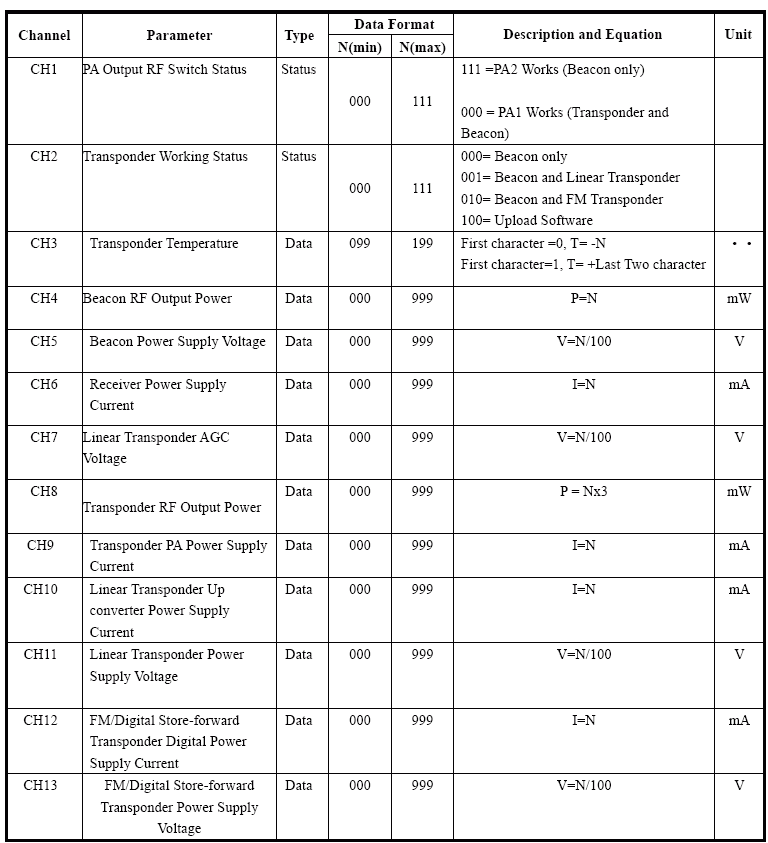 CW Telemetry example
BJ1SA XW XW AAA TTT AUU A4E ETT TTT TTT TTT TTT TTT TTT TTT TTT XW XW
BJ1SA XW XW AAA TTT AUU A4T ETT TTT TTT TTT TTT TTT TTT TTT TTT XW XW
BJ1SA XW XW AAA TTT AUU T6E ETT TTT TTT TTT TTT TTT TTT TTT TTT XW XW
BJ1SA XW XW AAA TTT AUU A6E ETT TTT TTT TTT TTT TTT TTT TTT TTT XW XW
BJ1SA XW XW AAA TTT AUA T6T ETT TTT TTT TTT TTT TTT TTT TTT TTT XW XW
BJ1SA XW XW AAA TTT AUA A6E ETT TTT TTT TTT TTT TTT TTT TTT TTT XW XW
BJ1SA XW XW AAA TTT AUA T6E ETT TTT TTT TTT TTT TTT TTT TTT TTT XW XW
BJ1SA XW XW AAA TTT AUA T6E ETT TTT TTT TTT TTT TTT TTT TTT TTT XW XW
BJ1SA XW XW AAA TTT AUA T6E ETT TTT TTT TTT TTT TTT TTT TTT TTT XW XW
BJ1SA XW XW AAA TTT AUA A6E ETT TTT TTT TTT TTT TTT TTT TTT TTT XW XW
BJ1SA XW XW AAA TTT AUA T6T ETT TTT TTT TTT TTT TTT TTT TTT TTT XW XW
BJ1SA XW XW AAA TTT AUA TNE ETT TTT TTT TTT TTT TTT TTT TTT TTT XW XW
BJ1SA XW XW AAA TTT AUT T6T ETT TTT TTT TTT TTT TTT TTT TTT TTT XW XW
BJ1SA XW XW AAA TTT AUT TBE ETT TTT TTT TTT TTT TTT TTT TTT TTT XW XW
BJ1SA XW XW AAA TTT AUT T6E ETT TTT TTT TTT TTT TTT TTT TTT TTT XW XW
BJ1SA XW XW AAA TTT AUT A4T ETT TTT TTT TTT TTT TTT TTT TTT TTT XW XW
---
Homepage and other references: