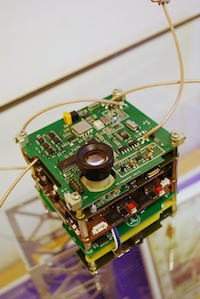 LituanicaSAT-1
Mission
LituanicaSAT-1 is the first Lithuanian satellite mission. The primary mission objective is to provide university students and young engineers knowledge & real hands-on experience in satellite engineering thereby helping to develop infrastructure and know-how in space technology by interdisciplinary interaction between academia and industry in Lithuania.
This mission is specially dedicated to honor the 80th Anniversary of the flight across the Atlantic by Lithuanian-American pilots Steponas Darius and Stasys Girėnas. Therefore the satellite bears the name of the original aircraft used during this historic flight – "Lituanica".
Orbital parameters
Name                 LituanicaSAT-1
NORAD                ?
COSPAR designation   ?
Inclination (degree) ?
RAAN                 ?
Eccentricity         ?
ARGP                 ?
Orbit per day        ?
Period               ?
Semi-major axis      ?
Perigee x apogee     ?
Drag factor          ?
Mean Anomaly         ?
Downlink
Beacon: 437.275MHz CW
Voice Repeater: 435.180 MHz
AX.25 Packet Radio: 437.550 MHz downlink; 9600 baud FSK, FM.
Uplink
Voice Repeater: 145.950MHz FM (PL 67 Hz CTCSS)
AX.25 Packet Radio: 145.850 MHz
Call
Call sign: LY5N and NOCALL
Status
Decayed. Launched 28-02-2014 07:30 UTC from ISS and active.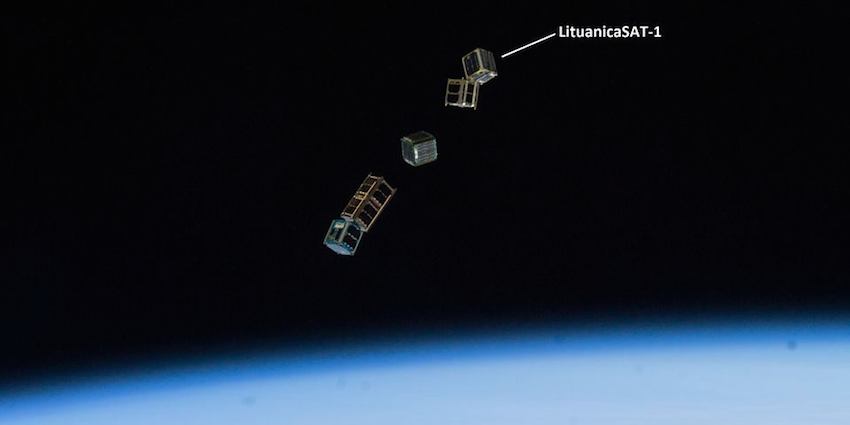 TLE
LITUANICASAT-1
1 00002U 00002A   14056.09960346  .00015610  00000-0  27403-3 0  7500
2 00002 051.6500 295.2334 0003990 171.7049 342.1851 15.50706756873933
Telemetry
LITUANICASAT-1 Telemetry 01-03-2014 16:04 UTC
The first time I could decode a 9600 baud AX25 packet.
LHCP Maspro UHF – FUNcube Dongle Pro+ – UZ7HO SoundModem – AGW Online Kiss.
from NOCALL to CQ: 
   1 > E4 1A DF 25 00 11 1E 0F 4C 10 76 10 A6 00 BC 1D 88 00 12 00 
  21 > 13 00 11 00 12 00 00 00 00 00 00 00 00 00 00 00 00 00 00 00 
  41 > 00 00 05 69 02 00 00 01 5C 38 24 8E FF A6 09 00 5B 9A 31 00 
  61 > 00 07 00 00 00 AD 00 67 FD 1D 03 00 A0 00 62 01 6C FC 00 14 
  81 > F5 3B 01 33 01 CB F2 00 20 00 E0 FF FA FD 00 4F F5 94 00 C4 
 101 > 01 00 EF 00 B8 FF 52 00 3A 00 00 CF FB 13 01 02 01 17 00 00 
 121 > B8 00 5A FD 1E 03 00 7E 00 86 01 A4 FC 00 13 F5 3B 01 37 01 
 141 > C7 F2 00 1C 00 CC FF 2C FE 00 50 F5 97 00 C9 01 03 EF 00 BA 
 161 > FF 58 00 3E 00 00 D1 FB 09 01 10 01 17 00 00 BE 00 56 FD 1B 
 181 > 03 00 8E 00 68 01 C6 FC 00 13 F5 42 01 3B 01 CE F2 00 34 00 
 201 > D2 FF 22 FE 00 4F F5 9C 00 CB 01 03 EF 00 BB FF 59 00 3F DB 
 221 > 00 DD FB 0A 01 00 01 17 00 00
QSL Card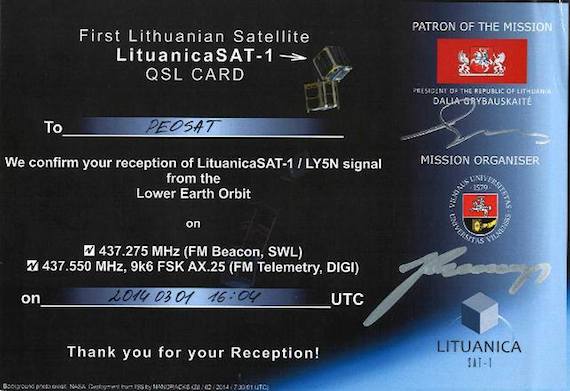 ---
Homepage and other references:
Main LITUANICASAT-1 website