HORYU-2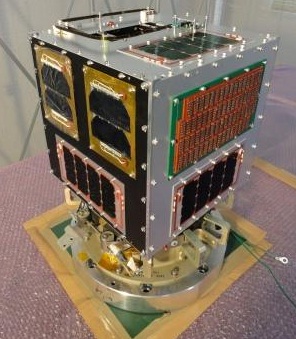 Built by students at the Kyushu Institute of Technology (KIT) HORYU-2 is 350 * 310 * 315 mm and mass is 7.1 kg. It will be launched into a Sun-Synchronous 680 km orbit with an inclination of 98.2°and operate on 437.325 MHz using either 20 wpm Morse Code or 1200 bps AX.25 GMSK.
Mission
300V photovoltaic power generation in LEO
Demonstration of solar array discharge suppression technologies at 300V
Demonstration of electron emission film (ELF)
Demonstration of Commercial-Off-The-Shelf surface potential monitor
Demonstration of debris sensor Taking photograph of the Earth and distribution of the image for outreach
High Voltage Technology Demonstration Satellite HORYU-II is a Nano-Satellite (30cm cubic shape, 7kg) being developed by the students in Kyushu Institute of Technology. One of the objectives of this satellite is orbital demonstration of forthcoming space high-voltage technologies. The satellite with the highest voltage generation in Low Earth Orbit has been ISS, generating 160V. On orbit, especially LEO, high-voltage (over about 200V) generally induces electro-static discharges (ESD). HORYU-II is aimed to demonstrate new designs of solar array that can generate power, free of ESD, by producing 300V via a specially designed solar array itself, not via a conventional DC/DC converter. If successful, HORYU-II will become the first spacecraft in the world that achieved 300V photovoltaic power generation in space.
Orbital parameters
NORAD                   38340
COSPAR designator       ?
Inclination             98.179
RA of A. Node           79.864
Eccentricity            0.0014533
Argument of Perigee     64.102
Revs per day            14.69937893
Period                  1h 37m 57s (97.95 min)
Semi-major axis         7039 km
Perigee x Apogee        651 x 672 km
BStar (drag term)       0.009751100 1/ER
Mean anomaly            64.396
Downlink
437.372 MHz CW Beacon 20wpm
437.372 MHz 1k2 AFSK FM
Uplink
145.xxx MHz
Call
JG6YBW
Status
Horyu-2 Launch Date, 17 May 2012, 16:39 UTC with GCOM-W1 (Shizuku) and active.
TLE Example 24-05-2012
HORYU 2
1 38340U 12025D   12145.34249383  .00001307  00000-0  22652-3 0   191
2 38340  98.1772  85.0218 0014654  48.3467 311.8783 14.69926633   976
Telemetry
Example received by JA0CAW at 18:15 UTC, 17 May 2012 over Japan 437.375MHz – 5kHz, CW
d1b9bbbd88dbfe3
d1b9bbbd88dbfe3
d1b9bbbd80d9fe3
d1b9bbbd80d9fe3
d1b9bbbd80d9fe3
d1b9bbbe7dd7fe3
d1b9bbbe7dd7fe3
d1b9bbbe79b5fe3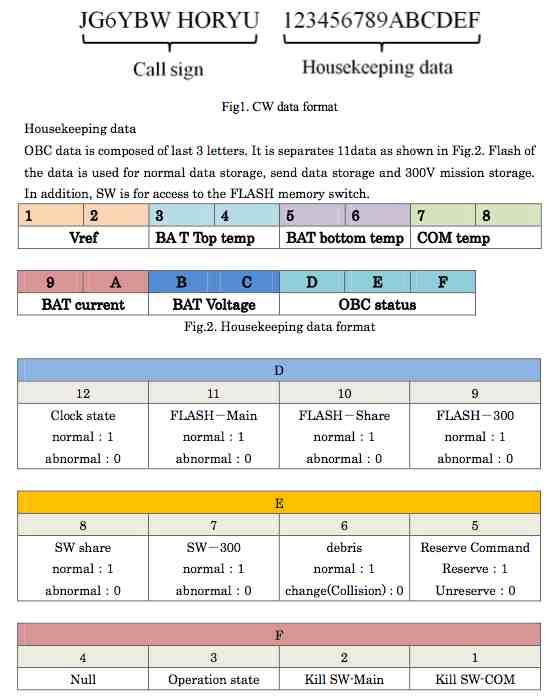 Software can be download via the following link: telemetry software
---
Homepage and other references:
English language version of HORYU website.
Japanese HORYU website in Google English
Listen to HORYU via WebSDR