QB50
Mission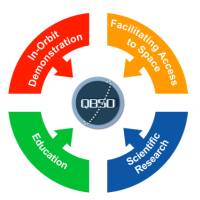 The QB50 mission will demonstrate the possibility of launching a network of 50 CubeSats built by Universities Teams all over the world as a primary payload on a low-cost launch vehicle to perform first-class science in the largely unexplored lower thermosphere.
Space agencies are not pursuing a multi-spacecraft network for in-situ measurements in the lower thermosphere because the cost of a network of 50 satellites built to industrial standards would be extremely high and not justifiable in view of the limited orbital lifetime. No atmospheric network mission for in-situ measurements has been carried out in the past or is planned for the future. A network of satellites for in-situ measurements in the lower thermosphere can only be realised by using very low-cost satellites, and CubeSats are the only realistic option.
Status
Precursor Flights, the first two satellites are QB50p1 and QB50p2 and will be launched June 19 at 19:11 UTC with a Dnepr LV from Yasny.
QB50p1 (FUNcube-3 payload)
FUNcube-3 is the transponder only payload on the QB50 precursor CubeSat "QB50P1″. This mission is now scheduled to launch on June 19 on a Dnepr launch vehicle from Dombarovsky near Yasny. The launch time has been quoted as 19:11:11 UT but this has not yet been confirmed. The initial beacon signals, from the main transceiver, are also expected to be AX.25, 1200 bps BPSK packets on 145.815 MHz.
Orbital parameters
Name                 QB50p1
NORAD                ?
COSPAR designation   ?
Inclination (degree) ?
RAAN                 ?
Eccentricity         ?
ARGP                 ?
Orbit per day        ?
Period               ?
Semi-major axis      ?
Perigee x apogee     ?
Drag factor          ?
Mean Anomaly         ?
Beacon
145.815 MHz 1200 bps BPSK telemetry
Downlink
145.935-145.965 MHz Downlink USB inverting 400 mW SSB/CW linear transponder
Uplink
435.035-435.065 MHz Uplink LSB inverting SSB/CW linear transponder
Call
TLE
QB50p1
1 AAAAAU YYLLLPPP  BBBBB.BBBBBBBB  .CCCCCCCC  DDDDD-D  EEEEE-E F GGGGZ
2 AAAAA  HHH.HHHH III.IIII JJJJJJJ KKK.KKKK MMM.MMMM NN.NNNNNNNNRRRRRZ
Telemetry
---
Homepage and other references:
QB50 Main website: www.qb50.eu
QB50 precursor information: IsisSpace Ham