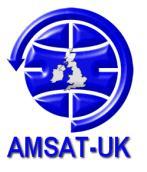 I would love to visit the Amsat-UK Colloquium but I am unable to. Therefor the Webcast that is made possible by the volunteers from BATC gives me the second best possibility to follow this Amsat-UK event.
So if you can't get to Guildford then the webcast provides the next best thing.
Watch live via this link. (view stream AMSAT 2013)
The schedule, times in BST (GMT+1), is at Colloquium 2013 Schedule
---
Homepage and other references:
Amsat-UK Colloquium 2013 information.