Update: The launch date has changed. Now the satellites will be launch at the 19th and 20th of November 2013.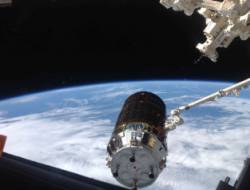 With al the attention going towards the Dnepr launch on November 21 we would almost forget that there are a couple of Cubesats onboard the ISS that will be launched also. The launch is planned for November 25. The following satellites will be deployed.
Pico Dragon, developed by the Việtnam National Satellite Center (VNSC), University of Tokyo and IHI aerospace. A CW beacon at 437.250 MHz and 1200 bps AFSK AX.25 telemetry on 437.365 MHz.
ArduSat-1 developed by NanoSatisfi. 437.325 MHz 9k6 MSK CCSDS downlink.
ArduSat-X developed by NanoSatisfi. 437.345 MHz 9k6 MSK CCSDS downlink.
TechEdSat-3 developed by interns at the NASA Ames Research Center. 437.465 MHz 1200 bps packet radio beacon transmitting 1 watt to 1/4 wave monopole. It plans to test an Iridium Satphone modem and has a deployment mechanism to de-orbit in 10 days.
These satellites arrived Aug 9, 2013 at the International Space Station's and the Canadarm2 grapples the unpiloted Japanese "Kounotori" H2 Transfer Vehicle-4 (HTV-4) as it approaches the station, carrying ArduSat-1 and ArduSat-X among 3.6 tons of science experiments.
November 19, 2013 ISS Launch
Satellite
Uplink
Downlink
Beacon
Mode
ArduSat-1
437.325
9k6 MSK
ArduSat-X
437.345
9k6 MSK
PicoDragon
437.365
437.250
1k2 AFSK, AX.25, CW
November 20, 2013 ISS Launch
Satellite
Uplink
Downlink
Beacon
Mode
TechEdSat-3
437.465
437.465
1k2 AFSK, AX.25