RAIKO, FITSAT-1, WE-WISH, TechEdSat, F-1
They will be loaded into the J-SSOD deployer on ISS KIBO with TechEdSat and F-1 by HTV-3 (Kounotori-3) on 21 July 2012.
These satellites will be deployed from KIBO by the robotic arm in September 2012.
RAIKO (Wakayama University)
100 x 100 x 200 mm 2U
http://www.astro.mech.tohoku.ac.jp/RAIKO/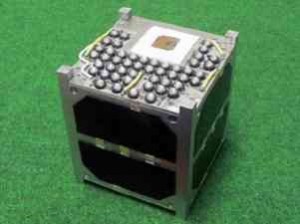 FITSAT-1 (Fukuoka Institute of Technology)
437.250MHz CW, 437.445MHz FM, 5840.00MHz High speed data
http://www.fit.ac.jp/~tanaka/fitsat.shtml
WE WISH (Meisei Electric Co., Ltd.)
437.505MHz SSTV, Telemetry, CW
https://sites.google.com/site/jq1ziijq1zij/
TechEdSat will be deployed from the International Space Station (ISS). It is a 1U CubeSat that will demonstrate Plug and Play power architecture and two way communication via the satellite phone/data networks Iridium and Orbcomm.
There will be a 437.465 MHz beacon transmitting 1 watt to 1/4 wave monopole. Commanding is via the commercial networks and there is a 2 week watchdog timer to stop the beacon in the event of no commands being received.
TechEdSat will be launched along with Raiko, FITSat-1, We-Wish and F-1 to the ISS aboard HTV-3, currently planned to launch July 21, 2012. From there, it will be deployed into Low Earth Orbit using the JAXA J-SSOD deployer, from the Japanese Experiment Module (JEM also known as Kibo). They will be deployed with the Kibo robotic arm planned for September, 2012.
Wiki-TechEdSat http://en.wikipedia.org/wiki/TechEdSat
F-1, Vietnam Student CubeSat
Downlink: 145.980MHz, 437.485MHz
Mode:     AFSK 1200bps, GMSK 9600bps, AX.25 KISS
Size:     10x10x10cm (1U cubesat)
Mass:     1kg
Payload:  C328 camera with 640x480 resolution
Main website: FSpace Laboratory
[PE0SAT Thanks JE9PEL, Mineo Wakita via amsat-bb for this information]