UWE-3 News: celebrating 4 years of operation in space.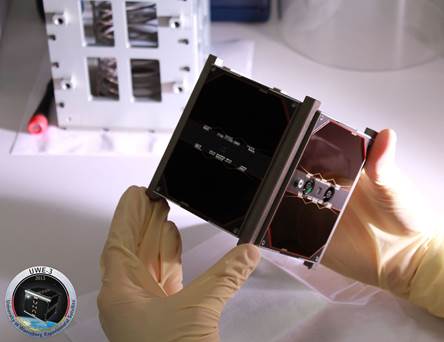 UWE-3 in clean room shortly before launch 2013.
During these last four years we received an outstanding support from the Radio Amateur Community from all over the world, which is highly appreciated. We would like to express our special thanks to:
DK3WN, Rainer, PE0SAT, SP7THR, EU1XX, JA1GDE, JA6PL, G7GQW, ON4HF, LU4EOU, DL8MCO, JA5BLZ, CU2JX, R4UAB, VK5HI, JA0CAW, IW0HLG, JO1PTD, YC3BVG, DB1VQ, JA6DHC, ZL4JL, VK2FAK, JE9PEL, JH4XSY, JF1EUY, N2ACQ, PY4ZBZ, CX8AF, DG4YDF, LU7DRR, PD0OXW, PA2EON, IK8OZV, ES5EC, K4KDR, ZR1ADC, JE1CVL, EA7ADI, EA1JM, PY2SDR, VE7CEW, PA3GUO, ES5TO, SM0TGU, EA4SG, DL1MX, W6YRA.
THANK YOU ALL FOR YOUR EXTRAORDINARY SUPPORT!
Yours sincerely,
UWE-3 Team.