Erich Eichmann DK1TB has released a new SatPC32 version.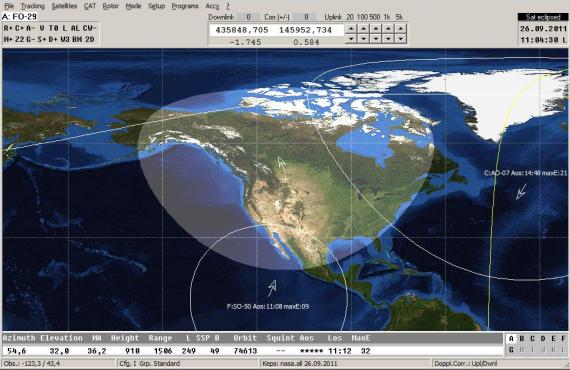 This 12.8c version has the following new features and fixes. Erich has used a new programming environment for this release and even after testing he would like to hear if others that use this new version can share there experiences with this new release.
Here a small list with changes, new features and fixes:
The CAT commands for the IC-9100 have been expanded.
The top line of the SatPC32 frequency display shows the ground station's downlink and uplink frequency for the chosen satellite.
Remote control programs, for example LogMein, allow remote control.
Keps files for different types of satellites can be merged to a single file.
WinListen now displays azimuth and elevation values in 0.1 degree increments.
Minor improvements

Some older fonts in the SatPC32 and SatPC32ISS have been replaced by fonts that are more readable.
The function that switches the sub tone frequencies for ICOM radios has been improved. Previous program versions switched the bands to get access to the uplink band. The new version avoids this by using other CAT commands.

Bug fixes

The sub tone frequency setting function for the Yaesu FT-857, FT-897 didn't work. That has been fixed.
CAT control of old Kenwood radios (TS-711, TS-811) didn't work properly with the  Kenwood CAT interface IF-232c which requires hardware flow control. SatPC32 works without flow control. Hardware flow control can now be simulated by checking the option "RTS+12V" in the "Radio Setup" menu.
The TS-2000 didn't correctly change into satellite mode when CAT control was activated (C+). Now it works.
All information regarding this new version can be found at the following location: SatPC32 V.12.8c release notes
The new version can be downloaded on the bottom of the main website from DK1TB.
---
Homepage and other references:
SatPC32 main English website