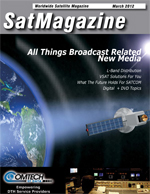 The March issue of SatMagazine features a 4 page article by Randa Relich Milliron, CEO and Co-Founder of Interorbital Systems.
Interorbital Systems plans to launch a number of amateur radio CubeSats along with dozens of TubeSats on it's Neptune 9 rocket.
Among the CubeSats to be launch by Interorbital Systems is Euroluna's Romit1 which aims to be the first CubeSat to use propulsion to significantly raise its orbit, from 310 to 700 km.
The Interorbital Systems article appears on page 90 and is followed on page 94 by an article on the Space Foundation which aims to promote science, technology, engineering and mathematics (STEM) in schools.
Download your free copy of the March SatMagazine http://www.satmagazine.com/2012/SM_Mar2012.pdf
[PE0SAT Thanks Amsat-UK and M5AKA for the above information]